Guest Speaker
Jim Burns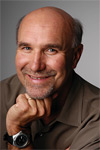 Jim Burns is president of the YouthBuilders, formerly the National Institute of Youth Ministry in San Clemente, California.
He is the author of several books for youth (Radical Christianity, Addicted to God), youth workers (The Youth Builder) and parents of youth (Drugproof Your Kids).
Highly respected for his expertise in the areas of youth ministry and parenting, Jim speaks to thousands of young people, youth leaders and parents across the nation and internationally.
He and his wife, Cathy, and their three children reside in Dana Point, California.