Guest Speaker
Joe Boot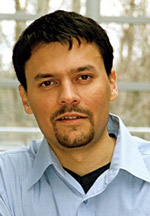 Rev. Joe Boot, Senior Pastor, Westminster Chapel, is an apologist, educator, author and senior pastor of Westminster Chapel in Toronto. He served with Ravi Zacharias for seven years as an apologist in the U.K. and Canada, working for five years as Canadian director of RZIM. Prior to this he served as an associate pastor with Christ Church Fulham, heading up their evangelism work in central London, England. In his first ministry role he travelled as national evangelist for Saltmine Trust in the U.K.
He has spoken all over the world in over 25 countries in numerous universities, seminaries, churches, colleges and conferences, including Eton College Windsor, Oxford University, University of Toronto, University of Waterloo, Carlton University, London School of theology, Virginia Tech, Forman University in Lahore, Pakistan and has publicly debated leading atheists in North American universities.
A theology graduate of Birmingham Christian College, England, Joe's post-graduate research Masters focuses in the field of missiology with Cliff College and the University of Manchester. His apologetic works have been published in Europe and in North America. They include Searching for Truth, Why I Still Believe and his latest volume, How Then Shall We Answer. He is visiting lecturer at the Oxford Centre for Christian apologetics at Wycliffe Hall, Oxford, England and is a contributing author to Thomas Nelson's major apologetics volume Beyond Opinion. He is regularly seen on the Michael Coren show and addresses apologetic questions for ListenUp TV. He is currently in the process of launching the Ezra Institute for Contemporary Christianity.
Joe lives near Toronto with his wife Jenny and three children Naomi, Hannah and Isaac.