Guest Speaker
Rob Patterson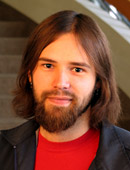 Worship Leader, Faith Community Church
831-429-9000 rob@santacruzfaith.org
Rob Patterson is a gifted singer-songwriter whose music has been described as "Strong, compelling… beautifully structured… fresh, has good imagery, integrity, and honesty." Rob's inviting stage presence and musical style reaches audience members right where they are. Rob is passionate about creatively engaging listeners in matters of faith and culture.
Rob's influences include songwriters such as Sting, Elton John, and Peter Gabriel, as well as bands such as U2, Counting Crows, and The Police. The overall result is an anthemic rock/pop sound grounded by skilled songwriting.
Born August, 30, 1978 in Santa Cruz, California, Rob grew up listening to pop radio and singing in choirs. This musical duality created a lifelong love of both popular music and classical music. In high school Rob sang for several choirs including a regional honor choir and California's All-State Honor Choir. In college Rob studied classical voice and participated in Cincinnati University College Conservatory of Music's program I Solisti di Lucca, in Giacomo Puccini's hometown of Lucca, Italy. After spending three years studying voice Rob changed schools and majors, and graduated in 2002 from San Jose Christian College with a double major in Bible and Theology, and Christian Leadership.
Rob has been leading musical worship for churches, camps, schools, and retreat centers since 1995, and was licensed as a pastor in 2004. In 2006 he helped start Faith Community Church in Santa Cruz, California, where he is currently on staff as Worship Pastor.
In 2001 Rob released his first independent record Kiss the Son, followed by the four song EP, Glimpse. In 2009 Rob released his first nationally distributed project, Found, produced by Grammy award winning producer Bubba Smith.
Rob is married to his best friend Julie. They have two daughters, Lyric and Story.
You can learn more about Rob at www.robpattersonmusic.com.