Guest Speaker
Dr. Ron Cline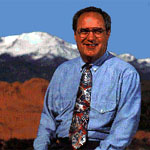 HCJB World Radio Chairman of the Board
A man gifted in bringing alive the gospel of Jesus Christ, HCJB World Radio's Chairman of the Board, Dr. Ronald A. Cline, challenges and edifies the body of Christ across the globe. His background in the pastorate, education, counseling and missions gives him credibility and rapport with the many groups and individuals he and his wife, Barbara, minister to around the world each year.
Dr. Cline is a graduate of Azusa Pacific University in California. He attended Fuller and Talbot Seminaries and studied counseling and guidance at Pasadena Graduate School, all in California. In 1982 he received a doctor of divinity degree from Azusa. He is an ordained minister and a licensed marriage, family and child counselor.
As a professor and administrator at APU for 10 years, Cline taught in many countries through the university's Operation Impact program. Today he and Barbara travel extensively in leadership and ministry with HCJB World Radio.
Cline's service with HCJB World Radio began in 1976 as a short-term opportunity pastoring the English Fellowship Church in Quito, Ecuador, one of the HCJB World Radio international broadcasting sites. From 1981 until 2001, he was president of the mission, which has more than 1,000 missionaries and staff members throughout the world.
In 1996 Dr. Cline began hosting the one-minute radio program, Beyond the Call, which today is aired by local radio stations in more than 1,000 communities in America.
Barbara Cline has degrees in psychology, biblical literature and social science from Azusa Pacific University. In her ministry with HCJB World Radio, she promotes prayer as a vital ingredient in world evangelism. The Clines have three adult children.
Dr. and Mrs. Cline currently make their home in Quito, Ecuador.