40 Days of Faith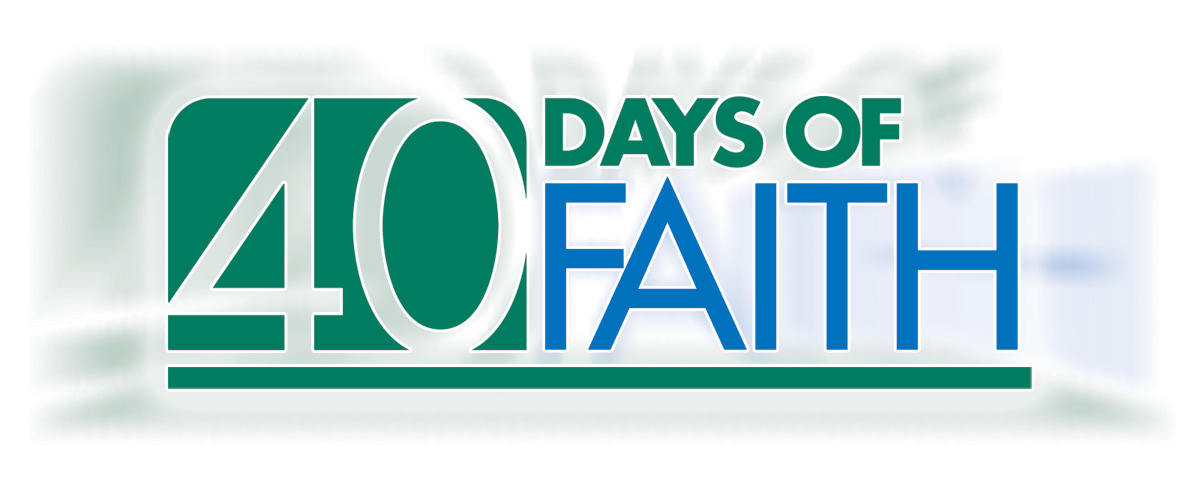 Sermon videos for this 9-week series
Small group vidoes
Day 1
Heroes
by René Schlaepfer
I was riveted to my seat when I heard the pastor say: "God wants to use you for a great purpose; greater than you could ever imagine! That's why God made you!" I wanted so badly to believe those words! But… I didn't.
And if you're like me, you have a hard time believing them, too. Because you have a problem. You could call it a mental block, or an emotional barrier. But it comes down to this: You keep thinking, "How could God ever use me?"
Frankly, the Bible calls it a lack of faith.
Your lack of faith limits your potential. Your lack of faith causes procrastination. Your lack of faith makes you miss God's best. Because your lack of faith prompts you to say things like what I said to myself that day: "God could never use me in a great way. Look at me! I'm just not the great achievement type. Maybe I've had good days but my time has passed. And think of all the bad things I've done!"
As if he was reading my mind, the pastor went on: "Have you read the Bible lately? Most of the great leaders of the Bible did not exactly have a sterling resume. Many were assumed to be past their prime. Yet God used them in amazing ways! And there is no better place to learn their stories than Hebrews chapter 11!" You know what? My life was changed that day when I read that wonderful chapter. And I truly believe yours will be changed through this study of Hebrews 11 too.
Hebrews 11 is God's Hall of Fame of Faith, a thrilling summary of the Bible's most fascinating characters: Ordinary people who accomplished the extraordinary. I love these guys! They weren't perfect. They lost their temper, they got insecure, they had their doubts. So how did God achieve so much through them? Their faith.
Hebrews 11 kicks off with a definition: "Now faith is being sure of what we hope for and certain of what we do not see." You might be thinking, "That just sounds like optimism!" But it's much more than that. Just to be clear, here's what faith is not:
Faith is not mere positive thinking. Don't get me wrong: Positive thinking is good. I like to be around positive thinking people. (What's the alternative? Negative thinking people?) But positive thinking is very limited. In a snowstorm in your pajamas you could think positively — but you'd still be freezing!
And faith is not wishful thinking. Some people have the idea that if they just had enough faith they could escape every problem. Nice wish. But the Bible is clear on this: You're going to have trouble. Everyone does, even the greatest faith heroes.
And faith is not magical thinking. In a way, this study is our answer to current best-sellers like "The Secret" which tell you to just have faith in your dreams, and you'll see them come true. But you need more than just a dream. You need God's dream for your life. You need more than just faith in faith. You need faith in God!
So if faith is more than positive or wishful or magical thinking, what is it? Hebrews 11:6 says "Anyone who comes to God must believe that He exists, and that He rewards those who diligently seek Him."
This is a brilliant summary of the irreducible core of faith. But if faith is believing that God exists and rewards those who really seek Him, here's a critical question: How does God reward those who seek Him? Not always with material prosperity, as we'll see in our study of the people in Hebrews 11.
How did He bless every single person mentioned in this chapter? By making them a powerful part of His plan for all of human history; by moving through their lives in amazing, unexpected ways to accomplish great things for Him.
Here's the point: God has a role for you to play, too. He has given you gifts and opportunities that are a part of His purpose for your life — and for all of creation. Imagine what miracles can happen through your life and through our church when you believe God has empowered you to do great things for Him! Really. Imagine! (Just for starters, we could feed every single hungry person in the county for a month!)
TIME magazine had a cover story last week about what they called "Mother Teresa's Crisis of Faith". Her letters show she experienced long times when she could not sense God's presence. Yet… she persevered, accomplishing stunning things all over the world because she believed God had called her. To me, that's not a lack of faith. That is faith. Faith is not tied to feelings. Faith is walking forward into new adventures in the midst of all the doubts and questions.
Could you use an infusion of this kind of faith? Could you use more confidence that God will use you? Are you facing a crisis that is draining your hope?
Join us on a 40-day journey through Hebrews 11, and your life will be changed… forever.
Point to Ponder
I need more than faith in faith, or faith in myself. To face the overwhelming challenges of life, I need faith in Someone greater than me.
Verse to Remember
Hebrews 11:6 (NIV)
"Anyone who comes to God must believe that He exists, and that He rewards those who diligently seek Him."
Question to Consider
Where in my life do I need more faith?