40 Days of Faith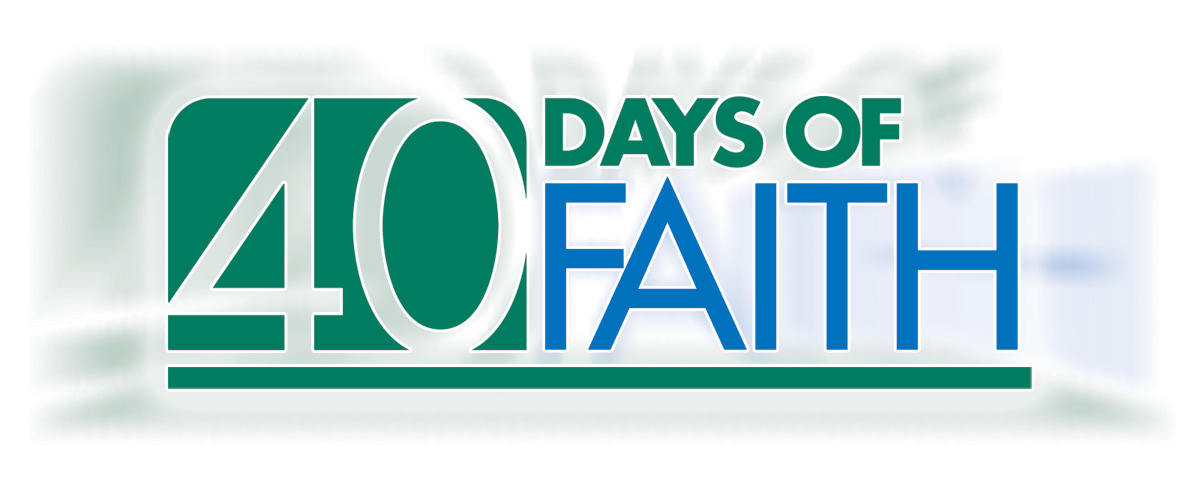 Sermon videos for this 9-week series
Small group vidoes
Day 2
The Truth About God
by Coraly Hanson
How do you respond when your faith is tested through life's difficulties? What helps me the most is going back to the things I know for sure about God: His unchanging attributes and His unfailing promises. I've discovered over the years that my feelings are unreliable, especially if I'm in physical pain, extremely tired, afraid, stressed, lonely, sad or discouraged. I need to live by my faith, not my feelings. In Psalm 89:1-8 the writer includes several key truths about God which change his focus from his discouraging circumstances to his confidence in God.
His "love stands firm forever." Remembering God's great love for you gives security and peace: His love never changes and never ends no matter what you've done or what He allows you to face. Romans 8:35-39 reaffirms this: After listing many frightening trials, Paul says that "[none of these] will be able to separate us from the love of God in Christ Jesus our Lord." (ESV)
He is "faithful." Often, when I face some new trial, I look back on God's abundant faithfulness in the past (journal-keeping helps in this) and it restores my hope and gives me endurance to wait until I tangibly experience His faithfulness again. One way in which we glorify God — and also encourage others — is to share the many ways God has been faithful to us, especially during trials.
He fulfills His promises. Just as God fulfilled His promises to David, so He will fulfill all His promises to us, His beloved children — in His perfect way and time. Choosing to review my favorite promises gives me confidence now and for the future. Romans 8:28-29: I know He is working all these things together for good for me, especially shaping my character to be more Christ-like. When I choose to look for the good He is doing during my trials, I remember God never wastes my pain. Another favorite promise is that He will never leave or forsake us — so even if I don't feel His presence, by faith I know that He is always with me.
He is the Creator. When I choose to go outside and look at the wondrous beauty of the heavens, mountains, ocean, trees, sparkling brooks, and beautiful flowers, my faith is refreshed. Spending too much time indoors or in man-made surroundings can sap my faith — my view of God diminishes. But when I get alone in creation, God's majestic handiwork reflects His character and restores my spirit.
He is "Awesome." No one and no thing can compare to the Lord — He is due our reverence, awe and healthy fear. He is much bigger than we think. When I can't figure out why God is allowing some painful chapter in my life, I realize I've become presumptuous in thinking I'm even capable of understanding the God of the universe. Paul agrees in Romans 11:33: "How unsearchable his judgments, and his paths beyond tracing out!" (NIV)
He is "God Almighty." Remembering that God is all-powerful and sovereign over everything and everyone removes my fear. God Almighty means the "Lord of Hosts". He is the commander of all the armies of heavenly angels and no enemy can ever defeat Him. When I feel weak, afraid, or overwhelmed by evil, focusing on His great power gives me confidence.
Recently I was diagnosed with rheumatoid arthritis, which has drastically changed my life. Due to chronic pain and fatigue, I've had to set aside two great loves: teaching B.S.F. and painting. One side effect of my treatment is depression. In order to remain hopeful while I wait for possible healing, choosing to "renew my mind" through Scripture has been crucial. I encourage you to try it, too!
Point to Ponder
When you can't understand God's ways, trust His heart.
Verse to Remember
Romans 10:17 (ESV)
"So faith comes from hearing, and hearing through the word of Christ."
Question to Consider
What trial are you currently facing? How much time will you spend each day reading God's Word and listening to Christian music to help renew your faith? How will you organize your time to include daily Bible reading?