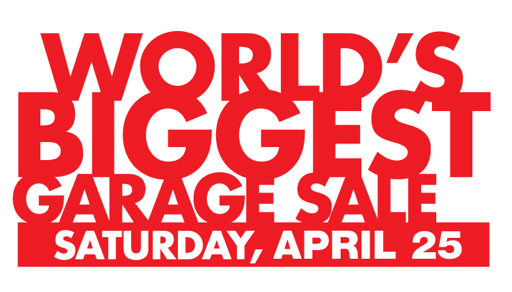 It's coming up Saturday, April 25 8am-2pm — our next opportunity to bless Second Harvest Food Bank with the proceeds from our big garage sale!
WE NEED YOUR HELP!
Volunteer to help receive/sort donations two weeks before at the times listed below
Volunteer to work at the sale and help clean up when it's over
Donate great stuff! We want clothing (in excellent condition), furniture, housewares, working appliances, gardening things, linens, bedding (please mark sizes), books, movies, flat-screen (only) TVs , seasonal and decorative items, artwork, collectibles, jewelry, sporting goods, and any other wonderful things in sellable condition. No mattresses, please.
Bring boxes, packing materials, and coat hangers starting April 13. We also need your unwanted clothing racks!
Grab flyers at the info desk to post at work, give to neighbors, friends, or family.
Come and shop on Saturday, April 25!
When to bring your donations:

Bring donations during these times to the Bus Barn (behind Monschke Hall).
You can also volunteer at any of these dates/times.
For all goods except furniture and heavy/very large items
Sunday, April 12: 9AM–6PM
Mon–Fri, April 13-17: 10AM–7PM
Saturday, April 18: 9AM–6PM
Sunday, April 19: 9AM–6PM
Mon–Wed, April 20-22: 10AM–7PM
For furniture and heavy/very large items
Sunday, April 19: 1PM–6PM
Mon–Thurs, April 20-23: 10AM–7PM
Friday, April 24: 9AM–1PM
What you can expect from the sale:
The privilege and blessing of contributing to Second Harvest!
Lots of treasures to purchase, and lots of fun!
Delicious baked goods and coffee for your shopping pleasure!
Ready to help?
Contact Gina: 831-722-4207 or wbgs@tlc.org