Haiti Relief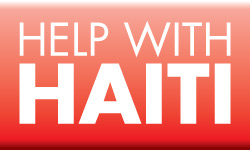 ---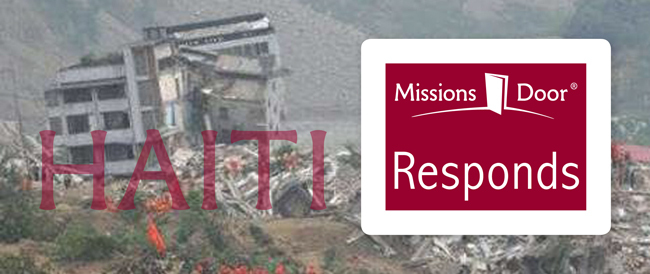 Dear Twin Lakes Church,
Greetings!
We want to thank you for your faithful support and prayers for our dear brothers and sisters in Haiti.
Since January 12, the day of the earthquake, the lives of millions of Haitians have not been the same.
Our missionary Alexis Francklin was teaching a theology class at our ministry center in Petit-Goâve. He and his six students ran from the third floor of the building as the earth started shaking. Right before their eyes, the whole front of the building collapsed, except for the staircase.
As soon as they got to the first floor, the staircase and the back of the building collapsed. They ran to safety and immediately started praying and sharing the gospel with people.
Thirty people came to know Christ that day. God protected them in a mighty way and we rejoice with them that they are alive.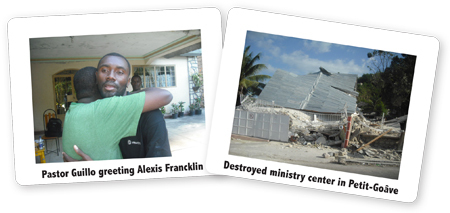 What I Saw
During my two trips to Haiti following the earthquake, I came away with two conclusions:
(1) The challenge to rebuild a new Haiti is immense and overwhelming.
(2) Our God is alive and actively working.
The people in Haiti are traumatized by the horrific experience of losing their homes, belongings, loved ones and seeing many communities totally destroyed. One of these is the community of Trousable, where we have a church that was totally destroyed and about 80 percent of the buildings have collapsed.
Thanks To Your Financial Support
Many have contributed for Haiti relief and through this partnership we have been able to provide help in Jesus' Name in the following ways:
Food and water were distributed through nine of our mission-related churches. More than 600 families have been helped.
Temporary shelters were provided for 126 families.
Lilavois clinic was opened on January 15 and is serving 180-260 people every day. Because people are still afraid to go into buildings, Dr. Abdias and his team of nurses are taking care of people outside.
A van was purchased to help with relief-related transportation needs between the Dominican Republic and Haiti.
Evangelism is taking place hand-in-hand with assistance provided through local churches. Many have come to Christ, and church services have welcomed increased numbers since the earthquake.
Three counselors were sent to Haiti on February 10 to spend four days in Port-au-Prince meeting with our leaders to evaluate and train them on how to manage the grief, trauma, anxiety and depression which are consequences of a traumatic event such as this earthquake.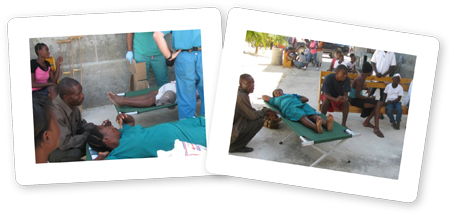 Joining Together
A ministry network has been established with CBAmerica, WorldVenture and DELTA Ministries to provide help for Haiti. DELTA Ministries will coordinate teams from U.S. churches to serve under the direction of our Haiti ministry director, Herode Guillomettre. Teams will assist with the rebuilding of churches, parsonages, homes, and ministry centers.
The Work Continues in Haiti
We need your prayer and support as we work with our national leaders to rebuild a new Haiti and as we develop a plan of action for the next months and years to come. As of now, this is a summary of what we will be doing:
Continue providing medical services at the Lilavois Clinic, which will remain open for at least one year.
Provide food for families from 14 communities where we have ministries, until the end of April 2010.
Donate benevolence funding to nine of our pastors who have lost personal belongings, and to rebuild the homes of those which have been damaged or totally destroyed.
Put up temporary tents for five churches that have been damaged, until teams are able to work on rebuilding these sanctuaries.
Start a garden rehabilitation program to provide funding and seeds to people in the communities of Petit-Goâve and Cabaret.
Begin the search process for new land to relocate churches that are in areas where it will be impossible to rebuild in the same location.
Once again, thanks for your partnership with us. A Haiti video is available on our website. You can also find updates at www.Haiti4Him.com, a joint ministry website that reflects the efforts of all of the ministries we are partnering with to provide Christ-centered relief and development for Haiti.
Blessings,
Joaquin A. Vargas
Vice President of Latino & Caribbean Ministries