Jesus Journey: 40 Days in the Footsteps of Christ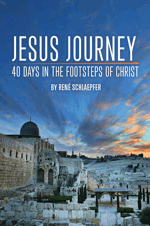 Jesus is honored and even worshipped by millions, but the intent of Christ's teaching often remains obscured by our modern perspective. Seeing the ancient paths Jesus walked — learning the truth about the world he lived in — adds new dimension to his teachings.
In Jesus Journey, you'll go on a 40-day trip to the lands of the Bible. You'll discover archaeological treasures amid mysterious ruins, and encounter Christ in a fresh new way.
Whether you're dreaming of a trip to the Holy Land, want to relive one you've taken, or simply desire to understand the Bible better, take the Jesus Journey! It will change the way you think about Jesus — forever.
Buy the paperback book at our weekend services, in the church office, or at Amazon.com or buy the Kindle ebook at Amazon.com.