National Day of Prayer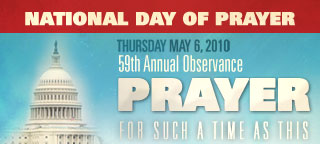 The 59th Annual National Day of Prayer took place Thursday, May 6, 2010. Millions unite in prayer at thousands of events from coast to coast throughout the day. Use this page as a guide to help remind you of the people we pray for.
Download the National Day of Prayer Guide
Pray for Federal Leaders
President: Barack Obama
Vice President: Joe Biden
Secretary of State: Hillary Clinton
Secretary of Defense: Robert Gates
Secretary of the Treasury: Timothy Geithner
Attorney General: Eric Holder
National Security Advisor: Gen. James Jones
Secretary of Education: Arne Duncan
Secretary of Homeland Security: Janet Napolitano
Pray for State Leaders
Governor: Arnold Schwarzenegger
Lt. Governor: Abel Maldonado
Senators: Barbara Boxer, Diane Feinstein
Other State Senators & Representatives
Pray for those serving our nation
All Branches of the Armed Forces
U.S. Supreme Court
Pray for Local Leaders
Santa Cruz City Council: Mayor Mike Rotkin, Vice-Mayor Ryan Coonerty, Katherine Beiers, Don Lane, Tony Madrigal, Cynthia Mathews, Lynn Robinson
Capitola City Council: Mayor Sam Storey, Vice-Mayor Dennis Norton, Bob Begun, Ronald Graces, Kirby Nicol
Watsonville City Council: Mayor Luis Alejo, Nancy Bilicich, Emilio Martinez, Greg Caput, Kimberly Petersen, Antonio Rivas, Manuel Bersamin
Pray for our schools & teachers
Pray for our preschools, elementary schools, middle schools, high schools, home schools, colleges and universities.
Pray for our churches
Pray for the churches, Christian camps, and ministries throughout the county.
TLC Pastors: René Schlaepfer, Mark Spurlock, Dave Hicks, Mark Hillenga, Paul Spurlock, Gary Williams, Dan Baker, Steve Craig, Jim Josselyn, Adrian Moreno, Jessica Bristol
Pray for our County
That God would use Twin Lakes Church as a source of light and encouragement.
Pray that our church will be effective at both growing people closer to Jesus and reaching out with the Good News of God's amazing grace.
Pray for those in our County struggling with being unemployed or underemployed.
Pray for those in our County who are "underwater" or in foreclosure with their home.
Pray about the recent upsurge in gang violence. Pray that God will bring peace to our cities and that people will find their identity in God's love and not gangs. Pray for wisdom for our leaders and police officers.