Upcoming Events
Join us for our next event...
A Lord of the Rings clip night!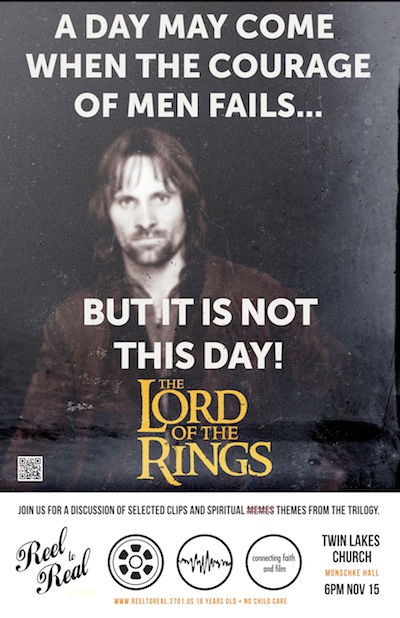 Friday, November 15th @ 6PM
all events held in Monschke Hall
ages 16 & up welcome
50 cent snack bar and Free Popcorn!
Disclaimer
At Reel to Real, we seek to select films that will stimulate thought and conversation, sometimes by presenting perspectives we may disagree with. We want to engage film culturally from a Christian standpoint. We therefore do not necessarily endorse everything said or done in each film selected. We avoid movies that are simply gratuitous, but we nevertheless enforce a 16 and over age limit on all events (except for occasional family movie nights).
Blog
For all information about Reel to Real, visit the Reel to Real blog!
If you have any further questions, contact Adam Nigh at adam@tlc.org