Zambia Blog 2010

Zambia 2010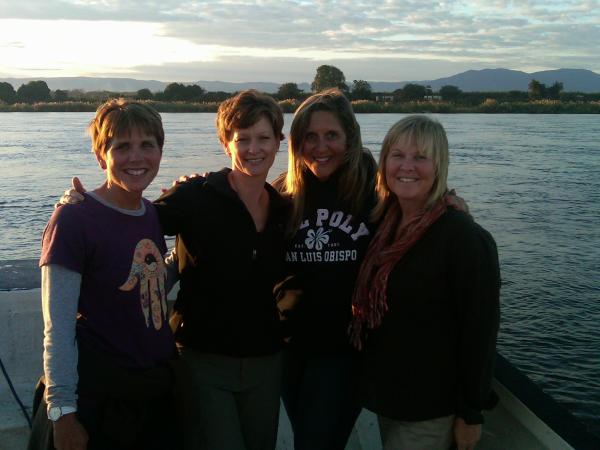 As with most missions trips, nothing goes the way you plan. This trip was even better than we could have planned! Below are just a few of our experiences of God's faithfulness. More will follow!
Preparing the way....
Two days prior to leaving, I (Kim) was doing my Bible study on prayer. What a surprise I got when I opened to that days lesson which was entitled "Global Impact Though Prayer". Thank you Lord, for your faithful preparation of my heart and for supplying us as a team with Your encouragement! (He did this a number of times over the trip. Read on...)
Although we had very long flights (about 26 hours + in the air) we arrived in Zambia rested after 2 days of travel and with all our luggage. Where teams prior to ours were charged extra fees for carry-on luggage (hundreds of dollars) we were just 'passed over'. Here's what happened:
When preparing to board the Ethiopian flight, people with more than one bag per person and/or exceeding 15 pounds of carry-on luggage were being made to unload their belongings in order to meet the limit or pay extra fees, a rule we had not been aware of. When we approached the attendant (having scrambled to disperse our weight as evenly as possible) we four ladies were asked to stand aside in another area with no one even looking at our bags. To our surprise, we boarded the plane with no problem (each of our 5 carry-ons definitely would have exceeded the 15-pound/one bag per limit).
Upon arriving in Lusaka the Action Zambia team did a fabulous job welcoming us. Tim Hilty, Megan Bloemker,and the Huckabys met us with hugs, smiles and plenty of help. They took us directly to Action Zambia's offices where we were again warmly greeted by more of the AZ team as well as the pastors in training whose wives we would be ministring to. After introductions and impressing them with a little nyanja, "Mule bwanji" (means "good day" or hello!) we were off to settle ourselves in our new home,the Ciyanjano conference center.
Wives conference-Day One
In preparation for the APC wives conference the Lord again gave us the perfect encouragement from Romans 15:5-8 "May the God who gives endurance and encouragement give you a spirit of unity among yourselves as you follow Christ Jesus, so that with one heart and mouth you may glorify the God and Father of our Lord Jesus Christ. Accept one another then, just as Christ accepted you, in order to bring parise to God." This was the verse we would use to open our conference with the Zambian women.
The conference could not have gone better. The women had fun, were so open to learning and were very interactive. We taught on subjects like the ministry of women in the church, being a pastors wife, leading Bible study, raising children, mentoring other women, baking, we made bracelets and more. Some spoke english quite well although we had an interpreter too. They asked many questions, some very personal, much related to ministry. The Lord truly answered our prayers and on day two again gave us the perfect words to begin our day.
Wives conference-Day Two
"I keep asking that the God of our Lord Jesus Christ, the glorious Father, may give you the Spirit of wisdom and revelation, so that you may know Him better. I pray also that the eyes of your heart may be enlightened in order that you may know the hope to which he has called you , the riches of his glorious inheritance in the saints and His incomparably great power for us who beleive." Eph. 1:17-19
For so long, in preparation for our trip, we had been praying that the Zambian women would feel God's presence, would grow to know Him better through our time together, that they wold be infused with His hope and know that they are not alone. These pastors wives have so many obstacle to overcome; lack of resources due to their own poverty as well as that of the people in their churches, the lies of witchcraft and old wives tales, lack of formal education and illiteracy. Most Zambian women are taken out of school at an early age to help care for the family or they never make it to school at all.
The words of Eph. 1 held personal meaning for all of us. These were the perfect words for both the U.S. team and the Zambia women and was a direct answer to prayer from God. We knew that if God is for us, who can be against us? We were meant to be together.
At the close of our conference we knew we had done what God had asked and that we'd made some special friends that we hope to see again.
More to follow!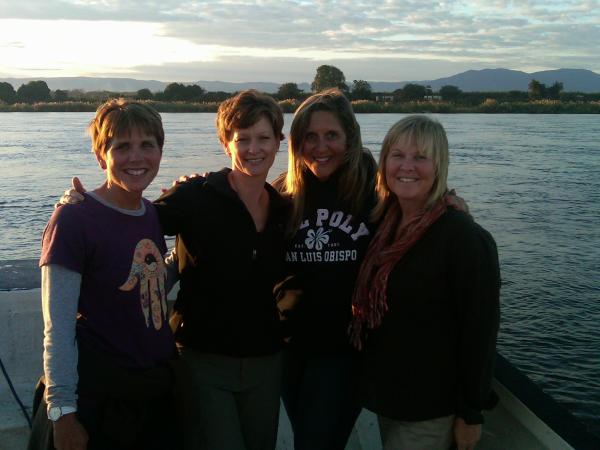 Mary Jean, Kim, Rhonda and Linda on the Kafue river, near the Lower Zambezi.
July 13, 2010